---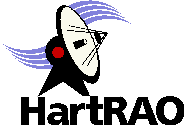 HartRAO Home > news > Eclipse Reports from Southern Africa 2002/12/04
---
Eclipse Reports from Southern Africa 2002/12/04
The eclipse of the Sun was observed from a number of locations in Southern Africa, after lots of preparation by HartRAO staff and our partner science centres.
Here are their reports:
Mike Gaylard of HartRAO was at Shingwedzi with the eclipse tour group of the Public Communication of Science and Technology (PCST-7) Conference.
Pulane Moroeng and Dr Jacob Manale of HartRAO and University of Venda respectively were at the viewing site on the eclipse centreline near Tshipise.
Samson Mongolele of the Giyani Science Centre carried out eclipse workshops and took busloads of eclipse chasers to the path of totality at Musina.
Alpheus Mamadi of Bostec was just outside the path of totality. He made good use of the equipment provided by HartRAO in explaining the eclipse to a crowd of interested eclipse watchers.
Links
The "Astronomy Picture of the Day" website has some good views of the eclipse: the eclipse from Zimbabwe, an animation of Moon's shadow moving over Africa, the Solar Corona and the eclipse shadow cone.
---