Total Solar Eclipse 2002 - Tshipise
The northern border of South Africa will experience a total eclipse of the Sun on the morning of 4 December 2002. This eclipse spends most of the daylight hours across the southern Indian Ocean with a brief late afternoon display on the western Australian coast. The celestial geometry of this eclipse means that totality will last 90 seconds on the centerline. The eclipsed sun will be 42 degrees above the horizon. The track of totality runs through rural areas of the Northern Province.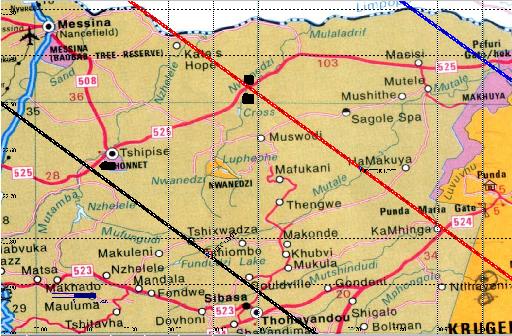 Eclipse path
In co-operation with African Itch, Tour Brokers in Pretoria, members of the Pretoria and Johannesburg centres of the Astronomical Society of Southern Africa identified the centreline in this region and selected viewing sites on farmlands about 20 minutes drive from Tshipise, in the path of the shadow. The two centres embarked on a joint venture with African Itch to stage the event. African Itch will supply camp sites, tented accommodation, as well as a limited number of motor homes and/or caravans at Tshipise for this occasion. A "Star Party" is planned at Tshipise on either of 3 or 4 December.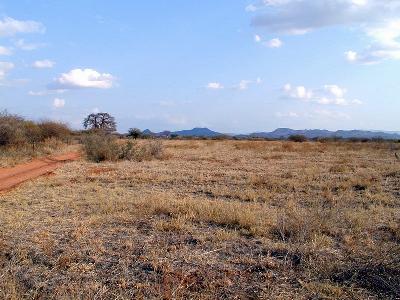 Viewing site
Return flights to Johannesburg as well as luxury bus transportation from all major centres to Tshipise will be arranged by African Itch for groups and individuals. An optional return trip by bus via the Kruger Park (two nights) and Blyderivier/Sabie (one night) will also be available. Flights from Johannesburg and Pretoria by light aircraft and/or vintage planes, directly to Tshipise, will also be arranged.
Tshipise
Tshipise, the well known leisure resort with its wonderful healing waters, traditional spa and relaxing bushveld atmosphere is justly known as the jewel of this northern region of the country. The resort is operated by Protea Hotels.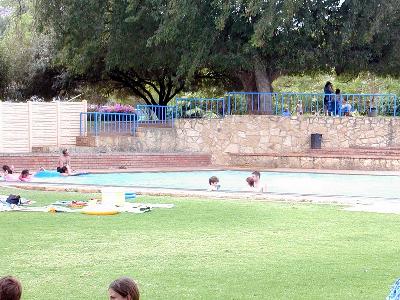 Warm water pool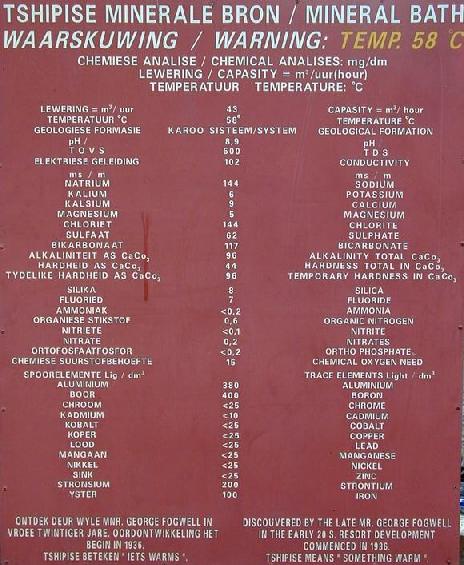 Mineral list
There are 4 pools to choose from - 2 cold pools, a spacious hot mineral pool and a covered health spa. Tennis, bowls, mini-golf, game viewing on horseback and game drives are available The ablution blocks are comfortable and are kept very clean. A restaurant, cafeteria, supermarket, butcher shop, green grocer, liquor store, launderette and bank (but no ATM) are available. Louis Trichardt is 86 km away and Beit Bridge 50 km. There is a petrol station about 1 km from Tshipise on the R525.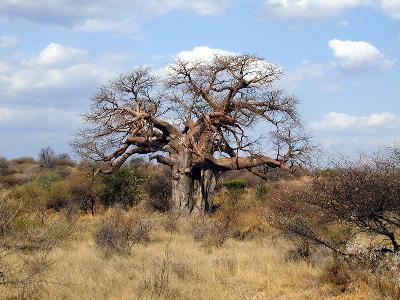 Baobab Tree
Due to popular demand the booking of the camp sites are now open for the period 2 to 6 December 2002. The spacious grassed sites (15 x 15 m average) are under big shady trees and all are equipped with electricity and water. A maximum of 9 persons per site will be allowed.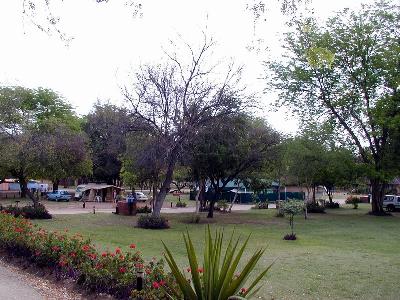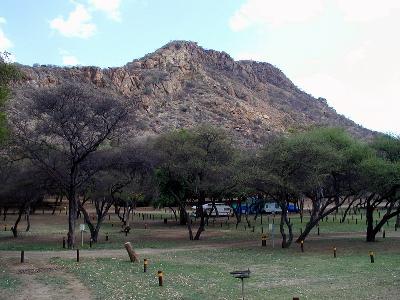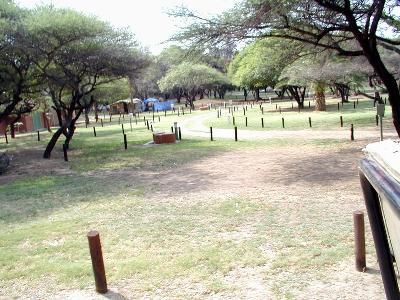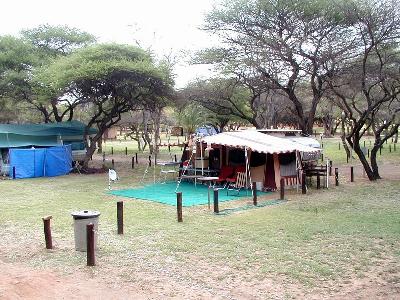 Camping sites
Prices
The prices for the period 2 to 6 December (4 nights) are as follows:
One night R 600,00
Two nights R1000,00
Three nights R1400,00
Four nights R1800,00.
Bookings
Contact: Frik le Roux, African Itch
P O Box 25434,
Monument Park
0105
Tel/Fax (SA) 012 460 2885 or Cell 082 920 8445,
Tel/Fax (International) +27 12 460 2885 or Cell +27 82 920 8445,
e-mail: mailto:africanitch@freemail.absa.co.za

Pre- and post-eclipse bookings and all travel arrangements can be made through African Itch. Package rates for individuals and groups and tariffs for tented accommodation and motor homes/caravans will be made available on request. The chalets at Tshipise are unfortunately fully booked.

To secure your camp site African Itch requires a 25% deposit with your booking as soon as possible.

Bank details are as follows:
Name of bank: ABSA
Name of account: African Itch
Account number: 1500 175 830
Branch code 63 20 05

Please fax or mail the copy of the deposit slip to African Itch and make sure that your name and contact details are on the document. We can only confirm your booking on receipt of the required deposit.
---