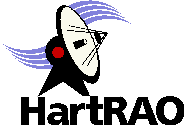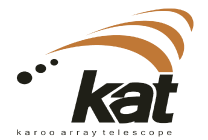 HartRAO Home > news > Progress Meeting - Karoo Array Telescope - 2006/06/01
---
Progress Meeting - Karoo Array Telescope - 2006/06/01
A meeting to discuss the aspects of the Karoo Array Telescope (KAT) was held at HartRAO on 2006 June 1. KAT is a technology demonstrator for the proposed radio telescope, the Square Kilometre Array, or (SKA).
Chaired by Willem Esterhuyse from the KAT project, participants comprised teams from SKA/KAT, the engineering companies who will build the antennas, and HartRAO.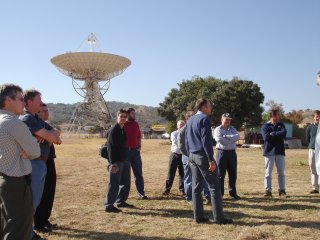 Click on image for LARGE version

The meeting began with an inspection of the site (above) where the prototype antenna will be built at HartRAO. The engineering teams also inspected aspects of the existing 26-m telescope, seen in the background above.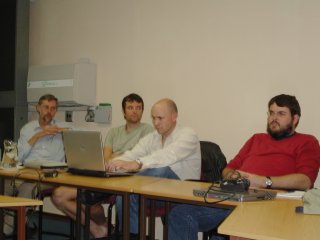 Click on image for LARGE version

The meeting then moved to a conference room in the main building at HartRAO. Willem Esterhuyse is seen above at his computer, while to his left are Mike Gaylard (HartRAO), Simon Ratcliffe (SKA/KAT) and to his right Jonathan Quick (HartRAO).
The IST Dynamics engineering team presented their design for the 15-m KAT antennas. This was followed by discussion on the gravitational and thermal deformation of the antenna, the feed support structure, the drive speeds required, the wind tolerance requirements, the antenna drive control system and commissioning tests.
Key contacts:
SKA Project Manager: Bernie Fanaroff (bfanaroff@ska.ac.za)
KAT Project Manager: Anita Loots (aloots@ska.ac.za)
Bursaries and Grants: Kim de Boer (kdeboer@ska.ac.za)
Media enquiries: Marina Joubert (marina@southernscience.co.za)
Contact the SKA office in Rosebank, Johannesburg on (011) 442-2434
Contact the KAT office in Pinelands, Cape Town on (021) 531-7282
Find out more about the SKA and KAT at www.ska.ac.za and www.kat.ac.za.
---