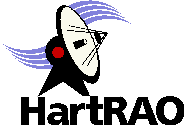 HartRAO Home > news > GNSS Receiver installed in Nampula, Moçambique 2006/04/06
---
GNSS Receiver installed in Nampula, Moçambique 2006/04/06

2006/04/06
Attie Combrinck


On 2006 April 6 Attie Combrinck and Professor Rui Fernandes, a collaborator from the University of the Interior at Beira, Portugal, left HartRAO by Land Rover to install a GNSS (Global Navigation Satellite Systems) receiver in Nampula, Moçambique. Six thousand kilometres and approximately ninety hours of driving later, they arrived back in Johannesburg on April 19.

The installation is scientifically important, since it will be able to provide useful data for African geodynamics research, in particular regarding the relative motions of the Nubia and Somalia plates. Furthermore, it fills a very big gap in the IGS (International GNSS Service) network of receivers, which is used for a wide field of research in geodesy.

The installed Topcon GB-1000 receiver is the first GNSS (American GPS + Russian GLONASS) receiver to be installed as a permanent IGS station in Africa, with 40 channels for the simultaneous dual-frequency tracking of navigation satellites. A future upgrade could enable the receiver to also track European Galileo satellites.

The success of the project is due to the fantastic support from the guys in the HartRAO workshops, in particular André van der Merwe (who made a new antenna shaft at short notice), Piet Louw (who helped to get all the necessary equipment ready in time), Pieter Stronkhorst (who provided useful advice) and fellow student Roelf Botha (who helped on the software and communications side).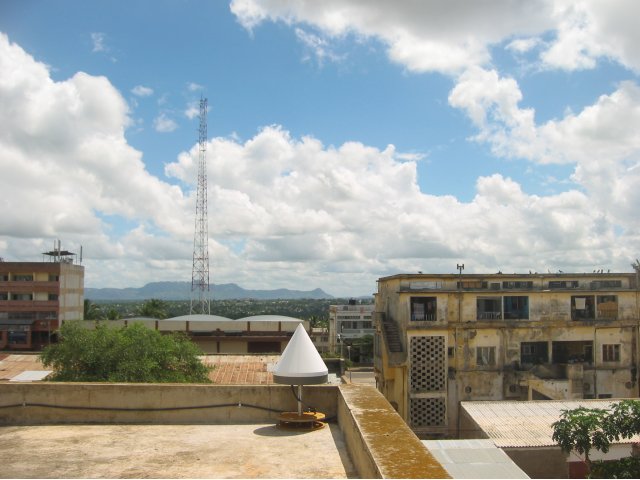 Click on image for LARGE version
A view of the GNSS antenna and radome, located on the roof of the National Agriculture Directorate's offices in Nampula, Moçambique.
---