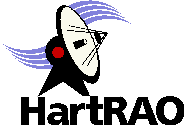 HartRAO Home > news > Students at HartRAO 2005/07/01
---
Students at HartRAO 2005/07/01

During the 2005 June-July university break, HartRAO's accommodation filled to capacity with students. Two students in South Africa's National Astrophysics and Space Science Programme (NASSP), Fulufhelo Maphaha and Takalani Mashamba, arrived at HartRAO to work on their Honours projects, one on pulsars, and one on masers.

North-West University's Potchefstroom campus provided two students, Hennie Boshoff and Du Toit Straus, to work in the space geodesy programme. NWU computer science graduate Charl van Jaarsveldt was also getting experiential training at HartRAO with the space geodesy programme.

The University of Pretoria provided final year computer engineering student Willem Marais for experiential training.

Professor Mike Inggs from the University of Cape Town Electrical Engineering Department brought two MSc students, Andile Mnagdi and Sydney Dunn, who are working on radio frequency interference in connection with the Square Kilometer Array (SKA) project, together with Rodney Urban and Wenrich Villiers from MESA Solutions.

On July 1 Fulufhelo, Takalani, Hennie, Du Toit and Charl had a guided tour of the radio telescope from Mike Gaylard, and the Satellite Laser Ranger from Johan Bernhardt. The photos below capture the trip up the telescope.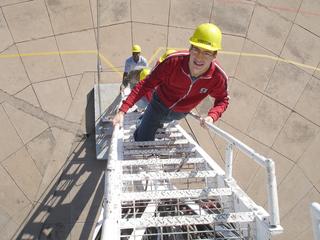 Click on image for LARGE version
Setting off up the ladder.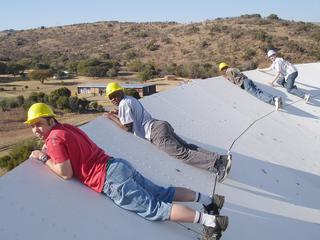 Click on image for LARGE version
Taking a look over the edge from ten stories up.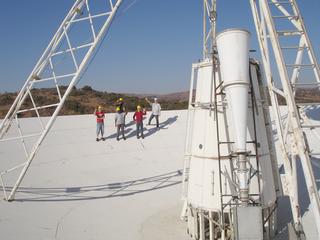 Click on image for LARGE version
In the dish.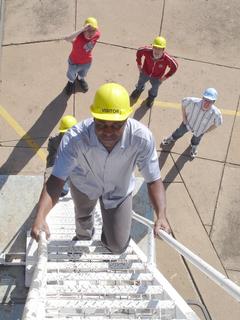 Click on image for LARGE version
The long climb down.
---