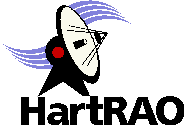 HartRAO Home > news > New Director for HartRAO 2003/05/06
---
New Director for HartRAO 2003/05/06
Professor Justin Jonas, head of the Department of Physics and Electronics at Rhodes University, will begin an appointment as Director of HartRAO for two years, with effect from 2003 June 01. He will retain his position as head of Department at Rhodes for this period.
Prof. Jonas has a long association with HartRAO, particularly through the 'Skymap' project, which used the 26m Hartebeesthoek telescope to map the entire Southern sky at a wavelength of 13cm.
A feature of his appointment is that he will help drive South Africa as the site for the proposed Square Kilometer Array radio telescope.
---