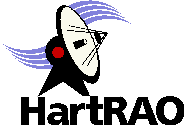 HartRAO Home > news > HartRAO joins EVN 2001/11/22
---
HartRAO joins EVN 2001/11/22
The European VLBI Network (EVN) comprises a number of radio telescopes in Europe and beyond that form a Very Long Baseline Interferometer. It runs several observing sessions each year, each several weeks long.

At the meeting of the Consortium Board of Directors (CBD) held at Jodrell Bank on 2001 November 22, HartRAO joined the EVN as an associate member. The meeting was attended by Dr George Nicolson, Director of HartRAO.

HartRAO as participated in previous VLBI experiments with the EVN, but on an ad hoc basis.
---