MOBLAS-6 at HartRAO
<![if !supportEmptyParas]> <![endif]>
Ludwig Combrinck and Wilhelm Haupt
<![if !supportEmptyParas]> <![endif]>
<![if !vml]>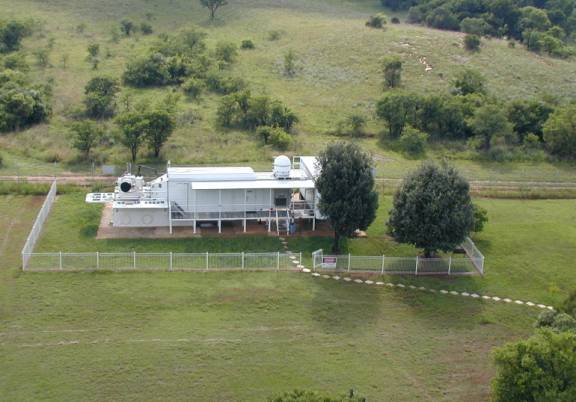 <![endif]>
<![if !supportEmptyParas]> <![endif]>
<![if !supportEmptyParas]> <![endif]>
During 2001 MOBLAS-6 continued to operate as part of the HartRAO Space Geodesy Programme in collaboration with NASA. High quality data are delivered consistently, MOBLAS-6 ranked first in the ISLRS community for best LAGEOS NP RMS during 2001. The station proved to be reliable as no major repairs to instrumentation had to be carried out, although some older supporting peripherals (e.g. airconditioner) failed, adversely affecting tracking operations. Spares and other inventory items were captured into a database system to simplify maintenance.
<![if !supportEmptyParas]> <![endif]>
Current tracking is maintained at 116 hours per week. This comprises two 8 hour shifts per day for three weeks and three 8 hour shifts per day for one week. Depending on future funding, it is envisaged that 24 hour per day tracking could be done on a routine basis.
<![if !supportEmptyParas]> <![endif]>
 Future activities will include a complete site survey to determine eccentricities between the SLR, VLBI, GPS and DORIS reference points in order to quantify discrepancies detected by previous site surveys.
<![if !vml]>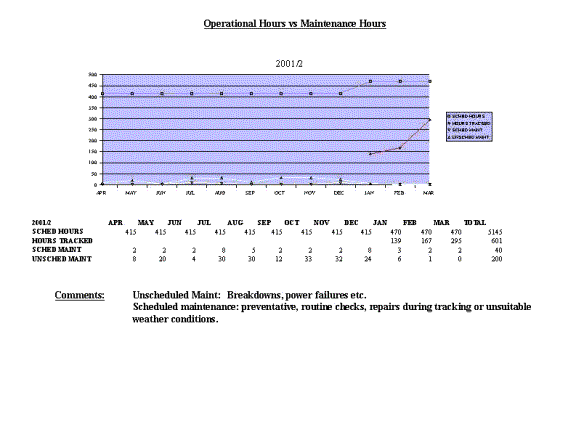 <![endif]>
The plot of operational versus maintenance hours above indicates a reasonably high ratio of scheduled hours to unscheduled maintenance. Actual hours tracked has only been recorded after 2001.
<![if !supportEmptyParas]> <![endif]>
Our winter months are more conducive to tracking and subsequent data output as summer months tend to have cloudy spells for several days or typically thunderstorms in the late afternoon. The MOBLAS-6 crew are integrated with the other space geodetic activities to allow a wider base of training and skills development.
<![if !supportEmptyParas]> <![endif]>
<![if !supportEmptyParas]> <![endif]>
Geodetic crew at HartRAO:  Ludwig Combrinck (Programme Leader), Wilhelm Haupt (Station Manager), Louis Barendse, Johan Bernhardt, Marisa Nickola, Lesiba Ledwaba, William Moralo, Pieter Stronkhorst, Piet Mohlabeng, Conrad Mahlase.
<![if !supportEmptyParas]> <![endif]>
Contact Information
<![if !supportEmptyParas]> <![endif]>
Dr Ludwig Combrinck                       Phone:   +27 12 326 0742
Space Geodesy Programme                Fax:      +27 12 326 0756
HartRAO                                            E-Mail:  ludwig@hartrao.ac.za
PO Box 443                                        WWW:  http://hartrao.ac.za
Krugersdorp
1740
South Africa